Please contact us to check availability or to reserve materials for your classroom.
Contact Us For More Information

JFR Poster Set on Rescue:
Traits That Transcend
This set of 8 posters (17″ x 22″) conveys a crucial message: that the Righteous are not just heroes from the past, but also role models for the present. The posters underscore this idea by linking individual rescuers to character traits exemplified in their stories – traits that are well-known and within reach to young people. Poster topics include: Compassion, Courage, Cooperation, Ingenuity, Moral Leadership, Self-Sacrifice, and Integrity.
Online access to 16, one-page, downloadable handouts, each of which tells the story of one of the rescuers is available HERE
A teacher's guide is also available for loan that includes an overview of key issues to consider when teaching the subject of rescue, suggestions for using the posters in the classroom, and a list of relevant books, films, and websites.
U.S. Holocaust Memorial Museum:
Artifacts Posters
Nine color posters showing artifacts that teach about:
Lost Childhoods
Ideology of Racial Hygiene
Locating the Victims: Hollerith Machine
Isolating the Victims: Stars, Triangles, and Markings
Spiritual Resistance: Theresienstadt Butterfly Toy
Deportation and Abandonment: Auschwitz Suitcases
Rescue: The Danish Boat
Resistance
Loss of Identity: Auschwitz and Majdanek Prisoner Shoes
A Convenient Hatred: The History of Antisemitism
by Phyllis Goldstein
An accessible history of antisemitism that masterfully communicates the magnitude of this hatred over the centuries and reveals why so many people in so many places have found antisemitism a most "convenient hatred."  The book chronicles the evolution of antisemitism through powerful stories that allow readers to see themselves in "the tarnished mirror of history." It also provides insights into universal aspects of human behavior, particularly the power of ideas—even mistaken ideas—to shape thought, judgment, and ultimately behavior. The book closes with an important chapter on antisemitism today.
Non-fiction. Grades 9-12.
31 copies
Address Unknown
by Kathrine Kressmann Taylor
A rediscovered classic, originally published in 1938 and now an international bestseller. When it first appeared in Story magazine in 1938, Address Unknown became an immediate social phenomenon and literary sensation. Published in book form a year later and banned in Nazi Germany, it garnered high praise in the United States and much of Europe.
A series of fictional letters between a Jewish art dealer living in San Francisco and his former business partner, who has returned to Germany, Address Unknown is a haunting tale of enormous and enduring impact.
Historical fiction. Grades 8-12.
19 copies
Destined to Witness
by Hans J. Massaquoi
An astonishing true tale of how Hans Massaquoi came of age as a black child in Nazi Germany. The son of a prominent African and a German nurse, Hans remained behind with his mother when Hitler came to power, due to concerns about his fragile health, after his father returned to Liberia. Like other German boys, Hans went to school and swiftly fell under the Fuhrer's spell. So he was crushed to learn that, as a black child, he was ineligible for the Hitler Youth. His path to a secondary education and an eventual profession was blocked. He now lived in fear that, at any moment, he might hear the Gestapo banging on the door.
Autobiography. Grades 8-12.
7 copies
Determined to Survive: A Story of Survival and One Teacher's Passion to Bring That Story to Life
by Amy McDonald with Max Steinmetz
Jefferson County, Alabama teacher, Amy McDonald, and Holocaust survivor, Max Steinmetz, forged a common bond – Holocaust education. It all began in 2013 when Max was invited to Amy's Holocaust Studies class for a series of in-depth interviews conducted by students.  Max had never found the right person to write his story until he met Amy. And so their journey began, with Amy determined to research every aspect of Max's recollections, especially those blurred by trauma. This is their story, one of a Holocaust survivor determined to survive, the other of a teacher determined to ensure that Max's story should continue to teach future generations.
Non-fiction. Grades 8-12.
30 copies
Friedrich
by Hans Peter Richter
Friedrich and his best friend were growing up in Germany in the early 1930s. At first, Friedrich seemed to be the more fortunate, but when Hitler came to power, things began to change. Friedrich was expelled from school and became an orphan when his mother died and his father was arrested and deported. This book reveals not only the intensity of the Nazi genocide, but also the treatment of one neighbor to another after finding out that they were Jews.
Historical fiction. Grades 6-8.
110 copies
I Have Lived A Thousand Years: Growing Up In The Holocaust
by Livia Bitton-Jackson
Born in a small farming town in Hungary, Bitton-Jackson was 13 when Nazis forced her and her family into a Jewish ghetto and then sent them to Auschwitz. After a year full of harrowing experiences, she was liberated. Bitton-Jackson conveys her childhood experiences so as to stir fresh empathy. She relates how the yellow star made her feel marked and humiliated, reluctant to attend her school's graduation; how existence in the ghetto, paradoxically, made her happy to be Jewish for the first time; how an aunt terrified the family by destroying their most valuable belongings before deportation, so that the Germans could not profit by them. Her descriptions of Auschwitz and labor camps are brutal, frank, and terrifying, all the more so because she keeps her observations personal and immediate, avoiding the sweeping rhetoric that has become a staple of much Holocaust testimony.
Non-fiction. Grades 6-12.
22 copies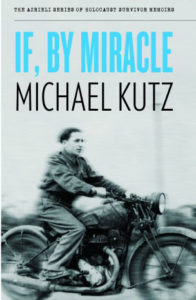 If, By Miracle
by Michael Kutz
Nearly buried alive, 10-year-old Michael Kutz narrowly escapes the Nazi death squad that has killed 4,000 Jews, including his own family, in his hometown of Nieswiez, Poland. Guided by his mother's last words and determined to survive, he becomes the youngest member of a partisan resistance group in the dense Belorussian forest, taking part in daring operations against the Nazis and their collaborators. After the war, Michael embarks on an odyssey through Czechoslovakia, Austria, Italy, and, finally, Canada, as he tries to find a home where he can leave the horrors of his past behind.
Non-fiction. Grades 6-12.
16 copies
If I Should Die Before I Wake
by Han Nolan
Hilary hates Jews. As part of a neo-Nazi gang in her town, she's finally found a sense of belonging. But when she's critically injured in an accident, everything changes. Somehow, in her mind, she has become Chana, a Jewish girl fighting for her own life in the ghettos and concentrations camps of World War II. Hans Nolan offers powerful insight into one young woman's survival through the Holocaust and another's journey out of hatred and self-loathing.
Fiction. Grades 6-12.
21 copies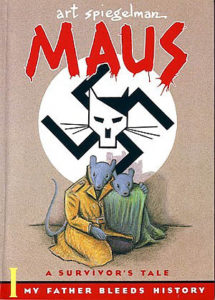 Maus I: A Survivor's Tale: My Father Bleeds History
by Art Speigelman
Maus I introduces readers to Vladek Spieglman, a Jewish survivor of Hitler's Europe, and his son, a cartoonist trying to come to terms with his father, his father's terrifying story, and history itself. Its form, the cartoon (the Nazis are cats, the Jews mice), succeeds perfectly in shocking us out of any lingering sense of familiarity with the events described, approaching, as it does, the unspeakable through the diminutive.
Graphic novel. Grades 6-8.
26 copies
Maus II: A Survivor's Tale: And Here My Troubles Began
by Art Spiegelman
This second volume moves us from the barracks of Auschwitz to the bungalows of the Catskills. Genuinely tragic and comic by turns, it attains a complexity of theme and a precision of thought new to comics and rare in any medium. Maus ties together two powerful stories: Vladek's harrowing tale of survival against all odds, delineating the paradox of family life in the death camps, and the author's account of his tortured relationship with his aging father. At every level this is the ultimate survivor's tale—and that too of the children who somehow survive even the survivors.
Graphic novel. Grades 6-8.
30 copies
My Father's Blessing
by Ruth Scheuer Siegler
This personal autobiography recounts Ruth Siegler's personal journey during the Holocaust.  From her home in Sinzenich, Germany, Ruth and her family attempted to stay one step ahead of the Nazis, but to no avail.  Ruth and her sister Ilse remained together during a harrowing journey that took them to Westerbork, Theresienstadt, Auschwitz, Stutthof, and Praust. Strengthened by their religious and family bonds, both survived.
Non-fiction. Grades 6-12.
30 copies
Night
by Elie Wiesel
Night is Elie Wiesel's masterpiece, a candid, horrific, and deeply poignant autobiographical account of his survival as a teenager in the Nazi death camps.
Non-fiction. Grades 9-12.
36 copies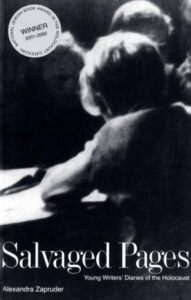 Salvaged Pages: Young Writers' Diaries of the Holocaust
by Alexandra Zapruder
A stirring collection of diaries written by young people during the Holocaust that reflects a vast and diverse range of experiences—some of the writers were refugees, others were hiding or passing as non-Jews, some were imprisoned in ghettos. The diarists ranged in age from twelve to twenty-two; some survived the Holocaust, but most perished. Taken together, their accounts of daily events and their often unexpected thoughts, ideas, and feelings serve to deepen and complicate our understanding of life during the Holocaust.
Non-fiction. Grades 6-12
30 copies
Stepping on the Cracks
by Mary Downing Hahn
In 1944, when her brother is overseas fighting in World War II, eleven-year-old Margaret changes her mind about the school bully, Gordy, after she discovers he is hiding his own brother, a deserter. Hahn's subtle, thought-provoking work proposes the legitimacy of a variety of ethical responses to critical situations.
Fiction. Grades 6-8.
21 copies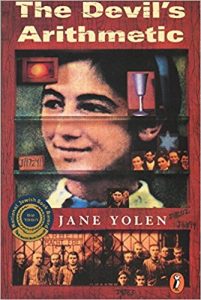 The Devil's Arithmetic
by Jane Yolen
Hannah is tired of holiday gatherings – all her family ever talks about is the past. In fact, it seems to her that's what they do every Jewish holiday. But this year's Passover seder will be different – Hannah will be mysteriously transported into the past…and only she knows the unspeakable horrors that await.
Fiction. Grades 6-8.
60 copies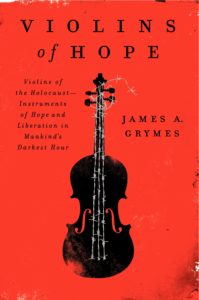 Violins of Hope: Instruments of Hope and Liberation in Mankind's Darkest Hour
by James A. Grymes
A stirring testament to the strength of the human spirit and the power of music, Violins of Hope tells the remarkable stories of violins played by Jewish musicians during the Holocaust, and of Amnon Weinstein, the Israeli violin maker who brings these inspirational instruments back to life. Violins of Hope was the winner of the 2014 National Jewish Book Award in the Holocaust category.
Non-fiction. Grade 6-12.
35 copies
We Fought Back
by  Allan Zullo
When the Nazis invaded their homes and killed their friends and families, these real-life teens went on the run and joined up with resisters known as partisans. These brave men and women used guerilla warfare and sabotage, from blowing up supply trains to attacking convoys, to thwart the Nazis. Based on author interviews with the former partisans, these incredible stories reveal how ordinary teens can triumph in the face of overwhelming odds and unimaginable hardships.
Non-fiction. Grades 6-8.
36 copies