ABOUT THE VIOLINS OF HOPE
The violin and its music have always been central to Jewish life.
For the Jews who endured utter despair and unimaginable evil during the Holocaust, music offered a haven. The strains of a beloved song supplied solace, even if only for a few moments. The chords provided a vital reminder that even the most brutal regime could not rob them of their faith. In some cases, the ability to play the violin spared Jewish musicians from more grueling labors or even death.
Nearly 50 years ago, Amnon Weinstein, an Israeli luthier, heard such a story from a woman who brought in her instrument to his shop for repair. The woman's father survived the Holocaust because his job was to play the violin while Nazi soldiers marched others to their death. When Weinstein opened the violin, he saw ashes, and reflected on his own relatives who had perished during the Holocaust.
Weinstein's own parents had immigrated to Palestine in 1938, where his father Moshe opened a violin shop. After the war, Moshe learned the fate of his family and suffered his first heart attack.  He never spoke of his family again. When Amnon would ask his mother Golda about their relatives, she would show him a book about the Holocaust and point to the ghastly photos of the dead and say, "This is our family." She would break down in tears, unable to explain further.
After growing up to become one of the most respected violin makers in the world, Amnon became determined to reclaim his lost heritage.  He started locating violins that were played by Jews in the camps and ghettos, painstakingly piecing them back together so they could be brought to life again on the concert stage.  Although most of the musicians who originally played the instruments were silenced by the Holocaust, their voices and spirits live on through the violins that Amnon and his son Avshalom have lovingly restored.  He calls these instruments the "Violins of Hope."
---
CURRICULUM RESOURCES
AHEC Curriculum Links – see Music
Borrow a classroom set of Violins of Hope: Instruments of Hope and Liberation in Mankind's Darkest Hour.
VIDEOS
Violins of Hope Visit to Alabama School of Fine Arts, Birmingham (9:00), Alabama Public Television 
Violins of Hope-Strings of the Holocaust (57:43), by Lance Shultz
Stories and Music from the Violins of Hope, Cleveland (1:23:06)
Dr. James A. Grymes reads from his book Violins of Hope: Instruments of Hope and Liberation in Mankind's Darkest Hour. Includes performance-related music.
Dr. James A. Grymes, Birmingham (1:36:51)
Restoring Hope by Repairing Violins of the Holocaust (7:06), PBS News Hour
Violins of Hope (10:23)
Presentation before AIPAC.
---
THE VIOLINS
The Auschwitz Violin (made in the workshop of Schweitzer, in Germany around 1850)
This instrument was originally owned by an inmate who played in the men's orchestra at the concentration camp of Auschwitz. And survived.
Abraham Davidowitz, who fled Poland to Russia in 1939, later returned to post-war Germany and worked for the Joint Distribution Committee near Munich, Germany helping displaced Jews living in DP (Displaced Persons) camps.
One day, a sad man approached Abraham and offered him his violin, as he had no money at all. Abraham paid $50 for the violin, hoping that his little son, Freddy, would play it when he grew up.
Many years later, Freddy heard about the Weinstein's "Violins of Hope" project and donated his instrument to be fully restored. Since then, this violin has been played in concerts by the best musicians all over the world.
It is important to note that such instruments were very popular with Jews in Eastern Europe, as they were relatively cheap and made for amateurs. This particular violin was made in Saxony or Tirol over 150 years ago, in a German workshop. It carries a false label: J.B. Schweitzer (a famous violin maker in his day).
---
The Bielski Violin (made in Germany around 1870)
This is a klezmer's violin. Most klezmer musicians were self-made and self-taught, with a natural talent for music. While many arts were not encouraged by Jewish tradition, music was one of the very few accepted outlets.
It was quite common for young children to play violins, as told by I.L Peretz, the Yiddish writer who wrote in one of his short stories that one could tell how many boys were in a Jewish family – by counting the number of violins hanging on the wall.
This is probably the reason why so many klezmer instrument were decorated with the most recognizable Jewish symbol – a Star of David (in this case, inlaid with mother of pearl). Most klezmer violins were cheap, made in Czechoslovakia or Germany, in shops that specialized in making ornamented violins.
The klezmer tradition was almost lost during World War II, but lately there has been some revival in Europe as well as in Israel and the US.
The restoration work on this violin is dedicated to the Bielski partisans who lived, fought, and saved 1,230 Jews during the war. Assaela Weinstein, Amnon's wife, is the daughter of Asael Bielski, one of the three brothers who formed the Bielski Brigade in Belarus.
---
The Friedman Violin
Two sisters in Romania, ages 9 and 11, shared the same violin. Both took music lessons with a nice teacher while their mother watched over and made sure they practiced every day. During the war, being transported from one place to another, they lost touch with their parents, who kept the violin as a souvenir of their talented little girls.
When the war ended, the girls were taken by Aliyat HaNoar (a children's immigration organization) and sent by boat to Palestine. But this was not the end of their travels and troubles. British police, then in control of Palestine, sent the boat and all the immigrant passengers to a camp in Cyprus. Months later, in May 1948, the sisters were reunited with their parents and their long-gone violin when they arrived in the newly established State of Israel.
---
The Haftel Violin (made by August Darte in Mirecourt, France around 1870)
This violin belonged to Heinrich (Zvi) Haftel, the first concertmaster of the Palestine Orchestra, later to become the Israel Philharmonic Orchestra, IPO.
Zvi Haftel was one of about 100 musicians gathered by Bronislav Hubermann in 1936 from all over Europe, and brought to Palestine. Haftel was a distinguished violinist before the war who joined Hubermann after he lost his job in a German orchestra. Hubermann's vision to create an all-Jewish orchestra in Palestine saved the lives of many musicians and their families.
Haftel's violin is one of the best in the collection of the Violins of Hope.
---
The Jacob Hakkert Violin (made in Mirecourt, France, 1906)
This is the first hand-made violin by the famous Dutch Jewish violin maker, Jacob Hakkert. It was made in France at the Mirecourt Violin-Making School in 1906.  Hakkert later came home to Rotterdam, Holland opening his own workshop in 1910. He started making strings, and printed a catalog containing the most famous players of the time commenting on his strings.
Hakkert was deported to Auschwitz where he died on May 22, 1944.
---
The Heil Hitler Violin
This is a non-distinguished instrument – yet a puzzle. It is presumed to have been owned by a Jewish musician or an amateur who needed a minor repair job for it in 1936. The craftsman opened the violin for no apparent reason, and inscribed on its upper deck were the words Heil Hitler, 1936, alongside a large swastika. He then closed the violin case and handed it back to the owner, who had played it for years, unaware of the inscription.
A few years ago, the violin was bought by an American violin maker in Washington DC, who was absolutely astonished to discover its insides. The maker's first instinct was to burn the instrument – but on second thought he contacted the Weinsteins in Tel Aviv and donated it to the Violins of Hope project. Today, it is part of the collection of instruments, but it will NEVER be repaired or played.
It is important to note that the majority of German violin makers were not Nazis. Many were known to support Jewish musicians who were considered to be their very talented and devoted clients and friends.
---
The Lyon Violin (made in Germany around 1900)
In July 1942, thousands of Jews were arrested in Paris and sent by cattle trains to concentration camps in the East, most of them to Auschwitz. On one of the packed trains was a man holding a violin. When the train stopped somewhere along the sad roads of Lyon, France, the man heard voices speaking French. A few men were working on the railways and others walking at leisure. The man in the train cried out,
"To the place where I now go – I don't need a violin. Here, take my violin so it may live!"
The man threw his violin out of the narrow window.  It landed on the rails and was picked up by one of the French workers. For many years, the violin had no life. No one played it.
Years later, the worker passed away and his children found the abandoned violin in the attic. They soon looked to sell it to a local violin maker in the South of France and told him the story they heard from their father. The French violin maker heard about the Violins of Hope and gave it to Amnon Weinstein so that the violin would live.
---
The Morpurgo Violin
A few years ago, a 90-something-year-old lovely lady and her three daughters came in to the Weinstein's workshop in Tel Aviv. Seniora Morpurgo and her daughters brought the much-treasured violin of Gualtiero Morpurgo, the head of the family from Milan, Italy.
The Morpurgos are an ancient and respected Jewish family. They go back some 500 years in the north of Italy.
When still a young child, Gualtiero's mother handed him a violin.
"You may not become a famous violinist, but the music will help you in desperate moments of life, and will widen your horizons. Do not give up, sooner or later it will prove me right."
That moment arrived without warning. Gualtiero's mother was forced to board the first train, wagon #6, at the Central Station in Milan. Destination Auschwitz. Her son, Gualtiero, was sent to a forced labor camp, and loyal to his mother, he took the violin along and often found hope and strength while playing Bach's Partitas with frozen fingers after a long day's work in harsh conditions.
Born in Ancona, Gualtiero graduated from engineering school and worked in the shipyards of Genoa. When the war ended, he volunteered to use his engineering skills to build and set up ships for Aliya Bet, helping survivors of the war sail illegally to Palestine. For this, he was awarded the Medal of Jerusalem by Yitzhak Rabin in 1992.
Gualtiero never stopped playing. He was 97 when he could play no more and put his life-long companion in its case. After his death in 2012, his widow and three daughters attended the Violins of Hope concert in Rome and decided that this is where it belonged – in the hands of devoted musicians in fine concert halls.
---
Wagner Violin (made by Benedict Wagner in Ellwangen, Germany, 17??)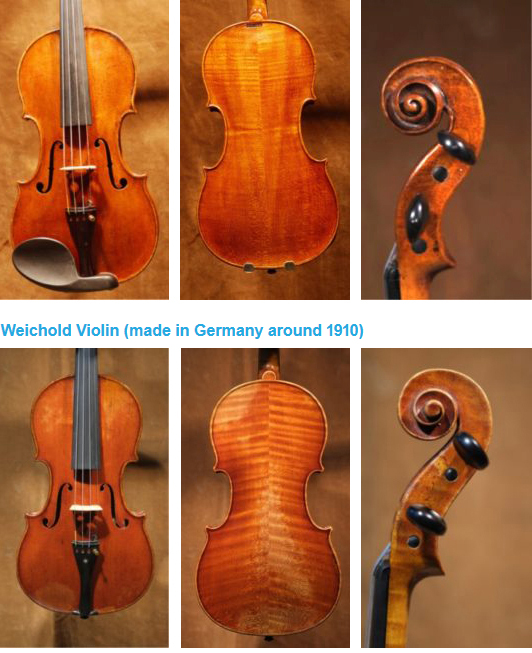 Both of these fine, high quality instruments belonged to members of the Palestine Orchestra, created in 1936 by Bronislav Hubermann. They tell the story and history of the musicians, who after 1948, became the Israel Philharmonic Orchestra (IPO).
Most members of the IPO were first-rate musicians in European orchestras, but lost their positions when the Nazis came to power in 1933 and anti-Jewish racial laws were enforced in Germany.
When the war ended, there was a general boycott of German good in Israel. So much so that the name "Germany" was boycotted on the radio. In this atmosphere, musicians refused to play on German-made instruments and many came to Moshe Weinstein, Amnon's father, and asked him to buy their violins. "If you don't buy my violin, I'll break it," said some. Others threatened to burn their instruments. Weinstein bought each and every instrument. For him, a violin was above war and evil. Yet he knew he would never be able to sell them.
After 50 years, those silent violins came back to life. These two extraordinary instruments can now be heard in concerts as part of the Violins of Hope.
---
The Erich Weininger Violin (made in the German workshop of J.B. Schweitzer around 1870)
Erich Weininger was a butcher as well as an amateur violinist in Vienna. When the Nazis marched into Austria in 1938, Erich was arrested and sent to Dachau, where he managed to bring along his violin. He was later sent to Buchenwald and though he was not allowed to play there, he still kept his violin.
Miraculously, Erich was released from Buchenwald with the help of the Quakers. He returned to Vienna, only to be one of the very last Jews to escape Nazi Europe. He boarded an illegal boat to Palestine, but was soon arrested by British police, who did not allow Jews to come in to Palestine at that time. Erich, with a violin in hand, was deported to the island of Mauritius, off the coast of East Africa, where he stayed until the end of World War II.
While in Mauritius, Erich did not go idle. He started a band with other deportees, playing classical, local, and even jazz music in cafes and restaurants. He finally reached Palestine in 1945. His violin was given to the Violins of Hope by his son, Zeev.
---
The Moshe Weinstein Violin (made by Johann Gottlieb Ficker, around 1800)
This violin was a life-long friend of first-generation violin maker Moshe Weinstein. Born in a shtetl in Eastern Europe, little Moishale fell in love with the sound of the violin. It happened when a klezmer troupe arrived in his small town to play at a rich man's wedding. While all the children gathered under the table to hide and steal sweets, Moishale was hypnotized by the sound of music. After a few festive days, the troupe left, and so did Moishale, who followed the musicians out of town. His mother, Ester, looked for the boy, but to no avail.
When his mother finally found him and dragged him back home, he was first pu1920nished and then was given a very simple violin. This was the turning point in the family's history.
Moishale taught himself to play; he later studied at the music academy in Vilna, where he met a pianist named Golda. The two later married and immigrated to Palestine in 1938.
Before leaving Europe, Moshe Weinstein went to Warsaw to study the repair of stringed instruments with Yaacov Zimermann. Since many Jews played the violin, Moshe felt there would be need for a violin maker in Palestine.
Upon his arrival in Palestine, Moshe worked in an orchard picking oranges. A year later, he opened a violin shop in Tel Aviv.
Loyal to the tradition of helping young prodigies with their fist steps into music, Moshe supported many talented Israeli children, among them:  Shlomo Mintz, Pinchas Zukerman, Yitzhak Perlman, and others.
---
The Feivel Wininger Violin (made in the Brother Placht Workshop in Schonbach, Germany around 1880)
Feivel Wininger lived in Romania with his elderly parents, wife, and baby daughter, Helen. In October 1941, Feivel and thousands of other Jews were deported by train to the swampland of Transnistria and then deeper into the Ukraine. The suffering and horrors of this exodus was harsh, but Feivel never gave up.
Finally, in the Ukrainian ghetto of Shargorod, Feivel found a way to survive. A famous judge, who was an amateur violinist, recognized Feivel as the gifted child-violinist that he had been years ago. The judge gave Feivel his Italian Amati violin. Feivel, who labored chopping wood for local Ukrainians, tried the violin, and his life was changed. All of a sudden there was music, and hope. A local Ukrainian peasant let him play at weddings and holidays in exchange for food and leftovers.
One day, an officer seized Feivel's violin, forcing him to choose between the violin and his family. With the help of a peasant, Feival was able to purchase another violin, and once again was able to bring food to his family and some 17 people by playing Ukrainian and Romanian music.
Many years later, in Israel, Helen brought her father's violin to be repaired in the Weinstein's workshop in Tel Aviv, so that her aging father could play again. After hearing this incredible story, the Weinsteins repaired the violin.  Today, Feivel's violin is part of the Violins of Hope and serves as a memorial to a man of courage and industry, a man of vision and kindness.
---
The Yaacov Zimermann Violin (ca. 1920)
Yaacov Zimermann worked in Warsaw and had many clients, both Jews and Christians. He was known to support young violinists such as Michel Swalbe and Ida Haendle, the child prodigy who became a world-renowned virtuoso. Zimmerman would provide them with strings, instruments, and repairs for free.
This hand-made violin is outstanding because it is unusually decorated with five Stars of David, four on the upper deck and one on the back. The decorations were made with glue mixed with black powder and usually made to order.
The violin was found in very bad condition. The varnish was almost non-existent, and it gave the impression of having been played most of the time in open air, rain, and shine. It was repaired meticulously for a year and a half and now serves as a concert instrument.
---
The Yaacov Zimermann Violin (ca. 1929)
This violin, dated 1929, is a regular violin made by Yaacov Zimermann for a local client.
---
The Zimmermann-Krongold Violin (Warsaw 1924)
Shimon Krongold was a wealthy industrialist and an amateur violinist in Warsaw, who ordered a violin made by Yaacov Zimermann, one of the first Jewish violin makers in Warsaw. Zimermann made him a fine instrument with a lovely Star of David inlaid on the back. Inside the violin he glued a label in Yiddish:
I made this violin for my loyal friend Shimon Krongold, Yaacov Zimermann, Warsaw, 1924.
Before the war, Shimon helped several Jewish prodigal children, among them Michel Swalbe, who used to get music lessons in Krongold's home. Swalbe later became the leading violinist of the Berlin Philharmonic Orchestra and remembered Krongold as his benefactor.
When war broke out in 1939, Shimon managed to escape to Russia and ended up in Tashkent, Uzbekistan, where he died of typhus towards the end of the war. A few years later, a survivor from Tashkent came to the Krongold family in Jerusalem with the story of his death and a violin in hand. Shimon was the uncle of the Krongolds in Jerusalem. They paid for the violin and kept it in memory of their uncle.