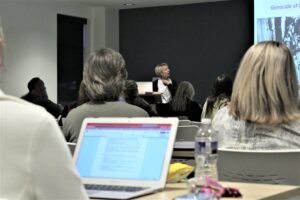 The Alabama Holocaust Education Center (AHEC) provides workshops designed to enhance teacher knowledge and pedagogy of the Holocaust.
AHEC workshops are generally provided in the Birmingham area on an annual basis and throughout the state of Alabama every other year. We would welcome the opportunity to work with an individual school system for local training.
Out of state teachers who are interested in attending one of our workshops CAN, but have a $100 registration fee and are not able to be reimbursed for substitutes nor travel expenses.