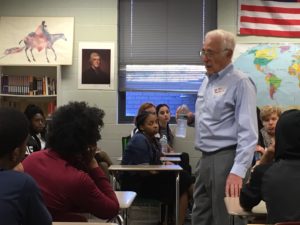 Holocaust Survivor testimony is the most effective and valuable tool to relate personal accounts of Holocaust history. The Alabama Holocaust Education Center (BHEC) enlists the speaking talents of Holocaust Survivors, Children of Survivors, as well as our Guardians of Remembrance (volunteers trained to tell the stories of survivors) to share their stories, each of which is unique and compelling.
The AHEC will make every effort to fulfill all speaker requests; however, there may be circumstances in which we cannot provide a speaker. Please review the guidelines below before submitting a request to  ensure that you are able to meet the criteria.
Speaker Guidelines/Procedures
The recommended age for students is 6th grade and above. For younger students, we recommend programs on respect, citizenship, justice, and civic responsibility as precursors for future Holocaust education.
Hearing a Holocaust speaker should be a supplement to the classroom Holocaust curriculum. Students need to have completed some form of Holocaust instruction, particularly around your speaker's background, prior to the date of presentation. If you need suggestions, please contact our office, info@ahecinfo.org.
Please submit your speaker request at least 3 weeks in advance.
Please be prepared to meet your speaker's technological needs – i.e. microphone, projector, and screen for PowerPoint presentations.
Allow at least 50 minutes for the presentation.
Speakers can only present once in a day, so we encourage classes be combined.
Based on your group's location, the requested time, audience's age, Holocaust preparation, or other factors, we will match your group with an appropriate speaker. In some cases where travel distances are prohibitive, we may be able to arrange for your group to hear a speaker via Skype.
Requesting a Speaker
If you feel you can meet the guidelines above, you're ready to fill out our online SPEAKER REQUEST FORM.
 Before the Visit
When your speaker is confirmed, you will receive a phone call and an email with their biography, contact information, and technical needs. We suggest reviewing the biography with your students before the presentation. Any additional background will certainly enhance their experience.
From readings and lessons, have each student write two or three questions he/she would like to ask the speaker. Review questions ahead of time.
At least one week before the presentation, call the speaker to introduce yourself, talk to them about your unit and class, and discuss logistics like parking, tech needs, and where to go when they arrive at your school/location.
After the Visit
Either the same day or the following day, provide students with a chance to debrief on their experience. This is a sensitive topic and raises many questions that my only come out later, in the comfort of peers.  Please review our  Reflection Questionnaire.
Notes of appreciation are always welcome. These may be sent directly to the Alabama Holocaust Education Center and will be forwarded to the speaker.
Alabama Holocaust Education Center
P.O. Box 130805
Birmingham, AL  35213-0805
While there is no charge for speaking engagements, any donations to the work of the AHEC will be graciously accepted.
The AHEC will be sending you a short, online evaluation after your speaker visit in order to help us maintain the highest quality of service. We would greatly appreciate your participation.