ANNE FRANK TREE
Kelly Ingram Park, Birmingham
On April 11, 2010, a horse chestnut tree similar to the one described in Anne Frank's diary, was planted in Kelly Ingram Park to symbolize  how the courage of those who faced harsh intolerance has inspired our community's growth into acceptance and hope.
Anne wrote about the tree in her diary three times, the last time on May 13, 1944, "Our chestnut tree is in full bloom. It's covered with leaves and is even more beautiful than last year."
The original tree in Amsterdam was over 170 years old, but due to extensive disease, fell in August 2010.  In anticipation of its demise, the Anne Frank House gathered some of its chestnuts to generate saplings to donate to schools and organizations. While Birmingham did not receive one of the original saplings, as had been hoped, the project continued with the purchase of sapling of the same species.
Five community organizations participated in this project: the Birmingham Civil Rights Institute, the Birmingham Public Library, the Sixteenth Street Baptist Church, the Alabama Holocaust Education Center, and the Jewish Relations Committee of the Birmingham Jewish Federation.
IN MEMORY OF THE SIX MILLION
Temple Emanu-El, Birmingham
This bronze piece was created by sculptor Cordray Parker, symbolizing the depth of the Jewish commitment to remember. It was given to the congregation in 1982, upon its 100th anniversary, by Dorothy Steiner.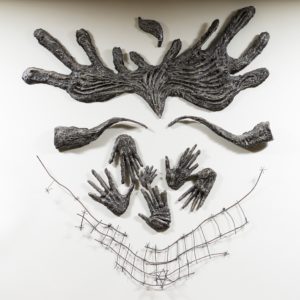 HOLOCAUST MEMORIAL
Temple Beth-El, Birmingham
In this bronze relief piece by Phillip Ratner, "A mangled Star of David is encased in barbed wire recalling the Nazi persecution of the six million. Six hands rise like smoke from the barbed wire. Each hand represents one million of our people: a man's tefillin enwrapped hand, a woman's hand with a marriage band, a small child's hand, and three other hands. Each hand is not separate and alone, but touching, symbolizing inter-relatedness; each hand grasps out not only in shrieking terror, but in a cry to the entire Jewish people to remember. The hands rise to a greeting by a pair of shofarot blasting in agony and announcing the arrival of the six million under the protective wings of the shechinah, the divine presence. The yod, symbolic of God, crowns the memorial."
This piece was given to Temple Beth-El in memory of Freda and Samuel Rubenstein by Dr. Sandy Apolinsky; in memory of Jacob Cherner by Muriel Cherner Zable and Bennett Cherner; and in honor of Mr. and Mrs. Morris Barstein by Mr. and Mrs. Max Corenblum and Mr. and Mrs. Mervyn Barstein.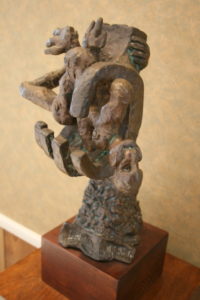 LEST WE FORGET
Temple Emanu-El, Dothan
Scupltor Larry Godwin's Statement:  This sculpture is composed of a passive victim contained within the rigid grip of Nazi genocide, supported by a blind, obedient Germany (2nd figure), whose feet will ever be mired in the indelible guilt for a massive act of atrocity. "Lest We Forget" is a protest against man's inhumanity to man.
This sculpture was donated on September 17, 1976 by Mr. and Mrs. Herman Blumberg, in memory of the six million Jews murdered during the Nazi Holocaust of 1933-1945.
'ZACHOR," REMEMBER
Congregation B'nai Jeshurun Cemetery, Demopolis
This memorial was donated to the community by Mary Louise and Bert Rosenbush.
HECHT MENORAH
Alabama Holocaust Education Center
"And I will give unto them a monument and a name, that shall not be cut off. " Isaiah 56:5
This inscription can be found on this unique, six-armed, Holocaust menorah which was donated to the AHEC Archives upon the closing of Congregation Beth Israel of Gadsden. The menorah was originally given to that congregation by the Hugo Hecht Lodge of B'nai B'rith, "In memory of the six million Jews whom the Nazis destroyed."
In 1908, the first services for Beth Israel families were held at 109 N. 4th Street in a room over the old Gadsden National Bank. Young immigrant Hugo Henry Hecht acted as "lay-religious leader" of the synagogue from 1911 to 1944. Hugo was born on February 21, 1880, in Floss, Germany and was a dedicated and spiritual man, well-versed in the bible and Hebrew. He conducted Shabbat and funeral services, wrote sermons, taught the Sunday school, and acted as secretary and treasurer. During his lifetime, Hugo was also the mainstay of the local B'nai B'rith Lodge. He died May 29, 1957.