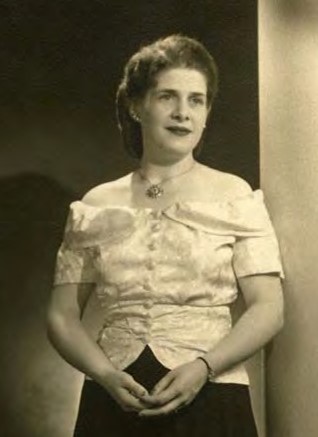 Sophie Nathan was born in the small town of Emmerich, Germany on November 7, 1921. Sophie and her younger sister, Emmi, were raised in a Conservative Jewish home by their parents, George and Thea Nathan. George was a successful businessman running his own business. Other family members, uncles, aunts and cousins lived in various other parts of Germany. Growing up, Sophie wanted to be a children's nurse. Hitler and the Nazi Party came to power when Sophie was in high school and her non-Jewish friends soon deserted her. After the introduction of the Nuremberg Laws in 1935, Sophie found herself having to do more domestic chores, as Jewish families were restricted from hiring help. Other Jewish families soon began to leave Emmerich. After graduating high school in 1938, Sophie studied in Cologne for a year. After Kristallnacht, Sophie's father was briefly imprisoned. Returning home in May of 1939, Sophie had difficulty finding work. Through an uncle who lived in Hannover, she found work caring for children in a preparation camp for youth going to Israel. At that time, World War II started and Sophie experienced the horrors of the Allied air raids.
Sophie and her family soon heard reports of Polish Jews being deported from Germany. Family members living in Belgium were also deported to a camp in southern France. In November 1941, her parents received deportation orders and Sophie returned to Emmerich once more. In December, the family reported to the local railway station, where they were sent to Dusseldorf, Germany. From Dusseldorf, they were put on a transport of around 1,000 Jews and sent to Riga, Latvia. Interred in a ghetto, they found evidence that the previous occupants had made a hurried departure. Life in the ghetto was hard, the weather was exceptionally cold, and there was very little food. Around them, people begin to disappear amid rumors of mass gassings and shootings. Sophie and Emmi were pressed into slave labor, sorting belongings taken from murdered Latvian Jews. In May 1942, Sophie's father passed away from complications of frostbite in his feet. The hospital in the ghetto had no medication to treat his injuries. Sophie and her sister were employed in various tasks, including shoveling snow on the railroads and as housekeepers for German officers. During this time, the Latvian people smuggled food to them. The work crews were paraded past prisoners hanging on gallows as they came and went from the ghetto. This served as a continual reminder of the punishment for breaking the rules. In the summer and fall of 1942, Sophie worked in the nearby peat fields. The Germans began to thin the ghetto population by selecting prisoners to send to the nearby Kaiserwald concentration camp. Sophie was only narrowly saved from a selection when her mother convinced a soldier to let Sophie come work with her and Emmi for the army instead. The same soldier later saved Sophie's mother from another selection.
As the tide of war turned and the Russian Army closed in from the East, the prisoners in Riga were evacuated to Libau, Latvia. Then in February of 1945, they were sent by boat to Hamburg, Germany. There, they were interred in Fuhlsbuttel prison under heavy Allied air attacks. In April, the prisoners were sent on a death march of approximately 60 miles to Kiel, Germany, to a camp Sophie describes as the worst one she endured. They were made to work on lice infested blankets and there were no facilities for prisoners to clean themselves. Many people died in Kiel in the closing days of the war and her mother became desperately ill.
On May 1, 1945, the prisoners were suddenly told to prepare for evacuation. Although certain that it was a rouse; they were loaded onto white buses with red crosses and taken over the Danish border, given food, and put on a train to Copenhagen. From Copenhagen, they were taken to Malmo, Sweden. In Malmo, the Red Cross and the local Jewish community welcomed the liberated prisoners. Sophie, her mother, and her sister began the long road to recovery. The family reconnected with an aunt and uncle living in Stockholm and Sophie and her sister soon began working as maids. In due course, other family members in the United States sent the money and the paperwork needed to immigrate. Sophie, Thea, and Emmi arrived in the US in April 1946.
(from the Cuba Family Archives of the Breman Museum, Atlanta, GA)