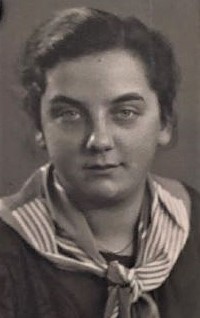 It was already too late for most Jews to escape Nazi Germany when a desperate 21-year-old Irma Kern received her visa to the United States.
The Nazis had destroyed the synagogue in her native Heilbronn am Nekar south of Heidelberg in 1938, and soon after, her widowed mother, Berta, lost her livelihood — the family furniture business, Albert Kern — after the compulsory aryanization of Jewish businesses.
In March 1939, Irma and her mother boarded a ship for the US. Berta's mother's family, the Würzburger cousins in Chicago, sponsored them. They bade adieu to Irma's two other sisters, who had delayed getting out. "A lot of Jews thought things would get better. When they realized that was not going to happen, it was too late, and they couldn't leave," Irma's son Howard said. Sisters Gertrude and Elise Kern were murdered by the Nazis, along with cousins and extended family. Irma's older sister Regina, brother-in-law Sigmund Rosenfeld, and their young son had previously immigrated to the US in 1938.
Irma found work in Chicago caring for young children, but wishing to be closer to family, she joined her mother and sister in Washington, DC. One night, while admiring a Christmas window at Woodward and Lothrop, she found herself standing next to Harry Koch, another German Jewish refugee who she knew from home. The two had first met when Irma was only 8 years old. They married three months later in 1942.
Harry Koch came from a well-to-do family in Mönchsroth, Germany. His uncle was a cattle and real estate broker, his brother owned a decorative feather factory, and Harry owned a sweater factory. Harry traveled the country as a Zionist organizer, and on one of these trips, had met with Irma's family in Heilbronn. When life became impossible in Germany, Harry was able to convince his sister's family (including her husband and two children) to immigrate. Harry came to the US in July 1938 with 26 cents in his pocket. The remainder of Harry's family perished.
Harry was sponsored by an affluent man in Denver who owned Denver Dry Goods. He offered Harry a job, but Harry declined and promised never to be a burden. "My parents were aliens from a country in conflict with the United States," Howard Koch said. "They were watched until they became citizens. They both had to work to make ends meet." Harry worked construction for the Federal Government in order to not be incarcerated as an enemy alien. Irma became a nursery school teacher.
"My parents both loved the United States," said Howard. "They became citizens as quickly as they could. Most of the time they wouldn't speak German. English was the language of their country, and they didn't want to identify with being German. They were citizens of America. They were very loyal."
Harry eventually traded in his coveralls to become a traveling sales rep for a clothing manufacturer. He and Irma moved to Richmond, VA to be near his sister. It was here that their son Howard was born. As a member of Congregation Beth Ahabah in Richmond, Irma became more observant as she aged. They joined the New American Jewish Club, which Harry encouraged to create a cemetery where Holocaust survivors could be buried and to build a monument there to loved ones who perished. The result was Emek Sholom Cemetery at Forest Lawn Cemetery in Henrico County, where Harry was laid to rest in in 1975.
After Harry died, Irma moved to Birmingham to live near her son, his wife, and their two children. Having taught nursery school for 36 years, she shared this passion at Birmingham's Levite Jewish Community Center, "It was something to see my mother in her late 70s or early 80s walking down the hall in her bathing suit taking children to go swimming," Howard said.
After retiring in 1986, Irma realized her dream of visiting Israel — not as a tourist but as a volunteer. During her 2-3 month stay, she worked on an Army base in support of their tank platoon. This little 68-year-old woman, wearing IDF fatigues, cleaned and oiled tools and parts.
Irma died at her home in 2011 at the age 92. She was buried next to her dear Harry at the Emek Sholom Cemetery.
Irma dealt with her past by not talking about it. Her husband, who lost even more family in the death camps, was scarcely more forthcoming. "Being a survivor of the Holocaust was like having surgery with no Novocaine," Howard said. "It was a painful conversation."